Communicating clearly builds powerful connections.
Spoke helps people and organizations who are making our world a better place do more. We work with you to sharpen your vision and amplify your voice, to better connect with your donors, partners, grantees or clients. Here's how…
---
Erin Fogg | Founder + Principal

Erin Fogg has dedicated her career to making the world more equitable, prosperous, and just, working with a wide array of charities, philanthropists, government agencies, political candidates, and elected officials. Prior to founding Spoke Consulting, Erin was the vice president and highest producing consultant at a boutique strategic communications firm in Marin County.
Before making the shift to consulting, Erin served as a legislative assistant to Congressman Adam Schiff (D-CA 29). She caught the media relations bug working the press for her boss at the 2004 Democratic National Convention. Following her stint on the Hill, Erin worked as a political research analyst, specializing in international affairs.
Erin brings a richly cross-cultural personal background to her work. She has called both Indonesia and Spain home, and has traveled extensively across Europe, Asia and the Middle East. In 2000, Erin helped coordinate donor retention efforts for the Southern California office of the U.S. Fund for the United Nations Children's Fund (UNICEF). She went on to found the U.C. Berkeley affiliate of the U.S. Fund for UNICEF (Bears for UNICEF) which will celebrate 15 years of service this year.
Erin graduated with high honors from the University of California at Berkeley with a B.A. in Interdisciplinary Studies and a Minor in Spanish. She earned an M.A. in International Policy from the Monterey Institute of International Studies, where she specialized in negotiations and conflict resolution. She studied abroad at the Universidad de Alcala just outside of Madrid, Spain, and completed a graduate-level course of study at the Universitas Sam Ratulangi in Sulawesi, Indonesia. She is an alumna of Emerge California and the National Outdoor Leadership School.
Erin's husband Trevor owns Blink Optometry in Carmel. Their son Rowan attends public elementary school, and their two dogs, Delilah and Toby, work with Erin at Spoke.
---
Kelsey Linder | Design Associate

Kelsey is Spoke's graphic design guru, leveraging her strong writing skills and experience with a wide array of communications tools to craft maximally effective visuals of all kinds. Kelsey returned to her native Monterey Peninsula after attending Principia College in Illinois where she earned her B.A. with an emphasis in Graphic Design. While attending Principia, Kelsey served as captain of the women's lacrosse team and managed the women's soccer team.
Prior to joining Spoke, Kelsey worked as the interim Communications Director at the prestigious Naval Post Graduate School (NPS) Foundation in Monterey. At the NPS Foundation, Kelsey led communications and graphic design for the school's largest annual membership events. In her spare time, she enjoys being with friends and family, taking photographs and blogging on her beauty and fashion blog, Blonde & Blushing.
---
Cord Bynum | Senior Project Associate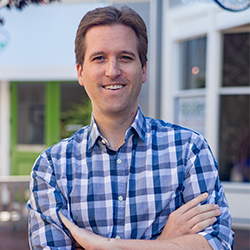 Cord brings a wide range of writing, research, content development, and instructional design experience to his role at Spoke. Prior to joining the Spoke team, he supported advancement efforts at an independent, nonprofit K-12 school, where he crafted messaging and communications, managed the school's extensive grants portfolio, and built relationships with foundations, allied professionals, and fellow community members to support students who learn differently. After several years working on the front lines in the nonprofit sector, Cord has valuable experience and insight in leveraging client strengths and potential to inspire engagement, action, and change for social good.
Prior to his efforts in the nonprofit sector, Cord worked as a writer and content coordinator in support of the Defense Language Institute, where he helped develop area studies, cultural orientation, and language training materials. His work in this and other areas reflects his passion for communicating knowledge, ideas, stories, and strategies to support organizational effectiveness, community-building, and lifelong learning.
Originally from Wyoming, Cord has lived throughout the western U.S. and is happy to make his home in Monterey County, where he enjoys hiking and spending time with family. Cord holds an M.A. in Art History from the University of Texas at Austin and an M.S. in Instructional Science and Technology from California State University, Monterey Bay.
---
Autumn Hays | Project Associate

Autumn implements her strong communication, marketing, and organization skills to provide excellent guidance and support to many of Spoke's clients. From thoughtfully crafting content to refreshing brand materials, email campaigns, and websites, Autumn is well-versed in all aspects of traditional and digital communications with a unique focus on (and a passion for) nonprofit organizations.
Autumn has worked her way up at Spoke after graduating magna cum laude from California State University, Monterey Bay (CSUMB) with her B.S. in Business Administration with an emphasis in marketing. At CSUMB, she worked on campus as a Housing and Residential Life Assistant where she scheduled, promoted, and managed a variety of events for students. While earning her degree, she interned with one of the top interior design firms on the central Californian coast, where she gained valuable experience in effective communication and produced design concepts that met the client's expectations, while working within their budget.
Originally from Fresno, Autumn has fallen in love with the Monterey Peninsula where she can be found teaching barre, hiking, and testing her knowledge of random facts at trivia nights.
---
Jessie Mutshnick | Junior Project Associate
Jessie is passionate about creating positive and lasting change in the lives of others. She graduated magna cum laude from California State University, Monterey Bay (CSUMB) with a B.A. in Human Communication with an emphasis in Practical and Professional Ethics. While earning her degree, Jessie worked for Monterey Unified School District as a Tutor, where she mentored students across four community schools.
Prior to joining Spoke, Jessie worked for University of California, Santa Cruz as Operations Coordinator in support of programs aimed at promoting access and equity in higher education.
Originally from southern California, Jessie is happy to call Monterey home. Jessie lives with her husband and their two cats. In their free time, they enjoy writing songs, stories, and hiking in Big Sur.
---
Kalinda Panholzer | Junior Project Associate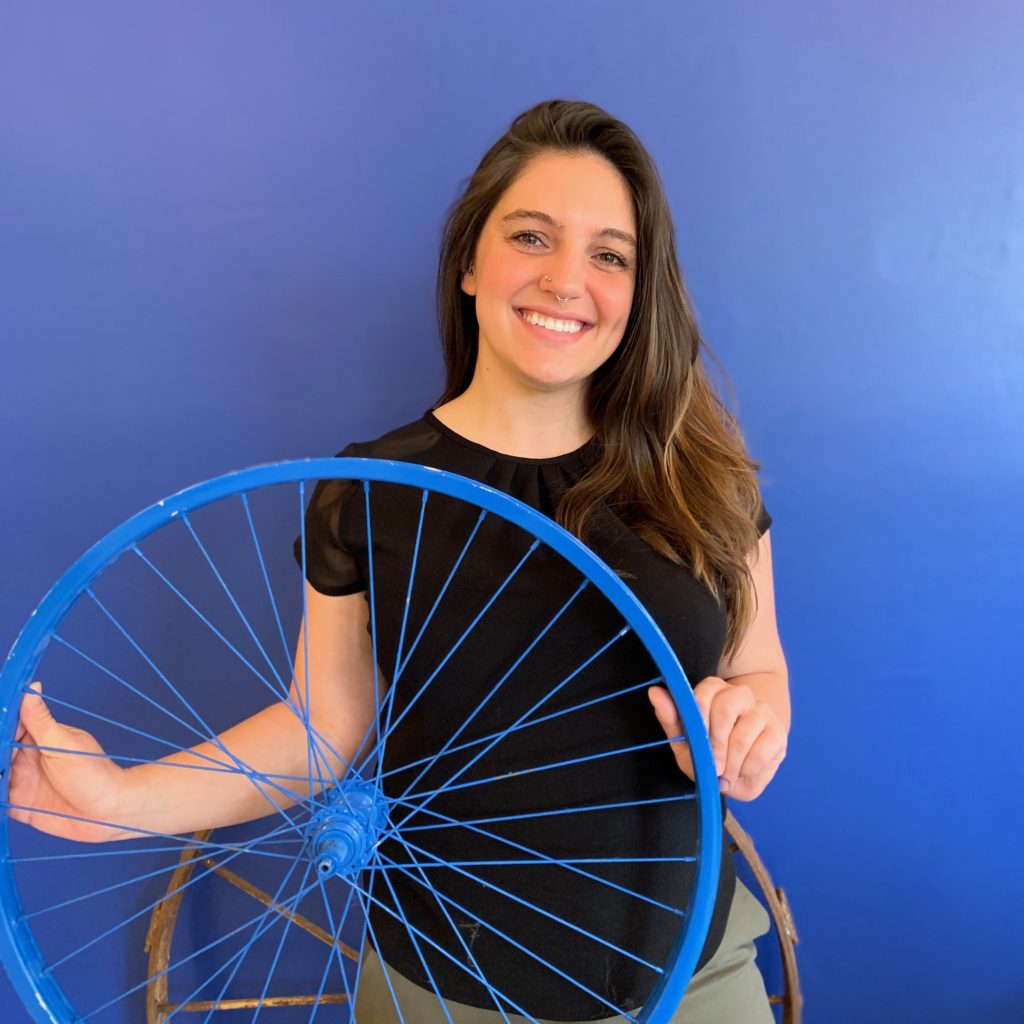 Kalinda loves bringing organizations to life through brand storytelling with one cohesive voice across print, digital, and social media. She is especially fond of creative projects, whether that means crafting an informative blog post, making updates to websites, or finding that perfect photo to share on social media.
Although her professional experience spans talk radio, archaeology, and destination marketing, Kalinda holds a special place in her heart for nonprofits and the social sector. Prior to joining Spoke, she helped spread the word about the beauty and high-quality wines of Monterey Wine Country as the Marketing and Communications Coordinator for the Monterey County Vintners & Growers Association. Kalinda has also contributed to her local community in a variety of roles, and most recently served as a Commissioner for District 5 on the Monterey County Commission on the Status of Women.
When not lending her skills to the success of Spoke's clients, she can be found exploring the many hiking trails of Monterey County, roller skating down the Recreation Trail, or hitting the track with the Monterey Bay Derby Dames. Kalinda holds Associates Degrees with Honors in Anthropology, Graphic Design, and Studio Arts from Monterey Peninsula College.
---
Jennifer Guzowski | Bookkeeper

Jennifer has been keeping Spoke's P's and Q's in order since we opened our doors. She brings decades of accounting experience for organizations big and small, for-profit and nonprofit, to her work with our clients and team. Jennifer is a Monterey native, raised along the rugged coast of Big Sur. She loves sunrise walks along the dunes with her dog Tobey, reveling in the genius of the incomparable Dave Mathews Band, and adventuring with her husband Ted and son Parker.